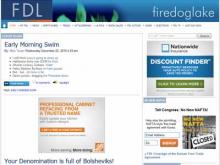 When Firedoglake was having trouble migrating from the free Blogger system to Wordpress, HollyIT was there to help. The transition was seemless and all data was imported successfully. From that point on Firedoglake continued to grow. HollyIT moved Firedoglake from Wordpress to Wordpress-MU to handle the multi-site needs of the ever growing community.
Features include:
Custom ad management system
Development of the first Wordpress 100% AJAX commenting system
Advanced moderation/management tools of user submitted content
Development of the first diary system for Wordpress based off the popular Diary system Scoop.